Another rise in Northern Ireland unemployment rate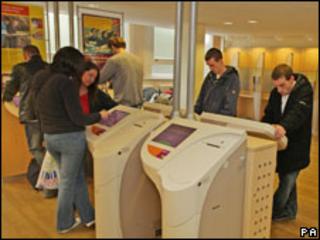 The number of people claiming unemployment benefit in Northern Ireland rose again in May.
The number claiming jobless benefits was 55,500, a rise of 100 on the previous month. The claimant count has now gone up by 15.4% in the past year.
NI was the only part of the UK to record a monthly rise in the number of people claiming jobless benefits.
The UK as a whole recorded a monthly decrease of 2% in the seasonally adjusted rate.
The Department of Enterprise, Trade and Investment also uses another method to measure quarterly unemployment.
The Labour Force Survey takes a representative sample by asking households about their status.
It suggests that the NI rate of unemployment between February and April was 6.9%, down 0.6% from both the preceding quarter and the same period twelve months earlier. .
The survey is used to give a comparative rate across the European Union, because methods of claiming benefits differ between nations.
It suggests that NI is below the rate in the UK, 7.9%, the Irish Republic, 13.2%, and the wider European Union, 9.6%.
'Disappointing'
The enterprise minister Arlene Foster said the rise was "disappointing" but stressed that the number of claimants had remained "relatively constant".
"However, I am conscious that the number of claimants has been decreasing in other regions of the UK and that the annual increase in Northern Ireland claimants is proportionately the highest of the UK regions.
"This remains a difficult time for people in Northern Ireland, as it will take some time before any economic recovery can be translated into sustained jobs growth and employment opportunities."
The Labour Force Survey also suggests that the current rate of economic inactivity in Northern Ireland is 26.7%.
Northern Ireland's rate of economic inactivity, defined by those who are not in employment but are not actively seeking jobs, is the highest in the UK, 5.2% more than the nationwide average.
Chief Economist at the Northern Bank, Angela McGowan, said the current economic climate was "taking its toll" on the labour market.
She added: ""We would expect to see further rises in unemployment as the local public sector shrinks although the actual extent of those job losses cannot be accurately predicted.
"On a more positive note, the latest Northern Ireland Labour Report also reveals that while some jobs are being lost, others are being created.
"The quarterly rise in local employment of 9,000 demonstrates that even in this challenging economic climate, Northern Ireland is a good place to do business."