Striking South African World Cup guards wage war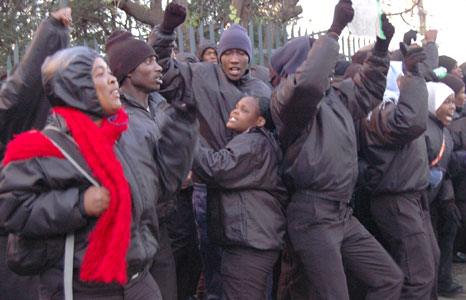 At a time when South Africa wants to put its best foot forward, a series of strikes at almost half of the World Cup stadiums threatens to hog the limelight.
Thousands of guards tasked with ensuring safety at the stadiums have gone on strike in Johannesburg, Durban and Cape Town - hours before the kick-off of World Cup matches - citing a wage dispute.
The country's police have been forced to take over security duties at four stadiums.
In one of the latest incidents, 1,000 officers from around Gauteng Province had to be diverted to Ellis Park stadium in Johannesburg to manage the 55,000 football fans set to attend the game hours before Brazil took on North Korea.
The guards told the BBC that they often worked 15-hour shifts and were "angry" and accused security company Stallion, their employer, of "exploitation".
"We are very angry. How can they expect us to survive on the money they want to pay us?" one steward, who spoke on condition of anonymity, said.
"We are being exploited because we are poor, uneducated and don't know better," she added.
After just finishing a long shift, she had joined other guards in a protest outside Ellis Park - some chanting for their unpaid wages.
"I am tired that last thing I need is to be sitting here. But what choice do I have? These people are robbing us we have to fight them," she said.
The guards say they were promised 1,500 rand ($194; £133) per shift when they signed with the company last month.
Instead they say they are receiving as little as 190 rand ($24; £17).
Most of the stewards are contracted to the Stallion, which has refused to comment on the strikes.
"We enjoy what we do," another guard at Ellis Park says.
"I have been unemployed for years and working as a security guard for the World Cup, it makes me feel like I am helping my country.
"But I deserve to be rewarded for my work, and rewarded well," she says.
Her views reflect a growing frustration at World Cup venues.
At a march in Durban, some 3,000 campaigners vented their anger on Wednesday at the lavishing spending on the World Cup, AFP news agency reports.
"Get out Fifa mafia!" crowds chanted, their ranks swelled by stewards involved in clashes with riot police on Sunday.
Their dispute sparked the strike on Monday in Cape Town, where more than 1,000 police trainees were sent to Green Point stadium hours before the Italy-Paraguay match.
The head of the local organising committee, Danny Jordan, said that he recognises the right of workers to strike, but that match day disruptions were unacceptable.
The Congress of South African Trade Unions, a partner in an alliance with the ruling African National Congress, said the workers' wage shortfall was an example of "greed".
South Africa's Transport and Allied Workers' Union - the largest union representing the security guards - says it has asked labour authorities to investigate.
The union says it seems many workers were employed without written contracts.
"Most have been employed on a temporary basis under conditions which do not comply with the minimum conditions," the union said in a statement.
The police are on high alert - and anxious to show they can handle the disruption.
"Our priority is the safety of the tournament and the country as a whole. We will perform our responsibilities with diligence," Police Commissioner General Bheki Cele said.
He spoke as it was announced on Wednesday that his force would continue stadium security duties in Johannesburg, Durban and Cape Town.
His words will give little assurance to the strikers, who serve as a reminder that the millions of dollars generated by the World Cup are unlikely to improve the lives of millions living below the breadline.
Related Internet Links
The BBC is not responsible for the content of external sites.