Weston to Bristol train 'abuse' pair image released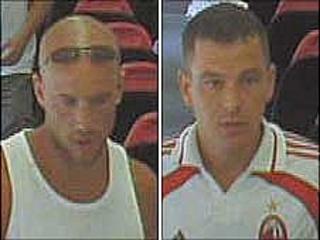 Images of two men wanted after an incident on a Weston-super-Mare to Bristol train have been released by British Transport Police.
The two men boarded at Weston at about 1410 BST on 28 May and hid in one of the train's toilets.
When the train manager asked them to emerge and pay for their tickets, one man became aggressive and began making violent threats.
They left at Worle station, the same man kicking the train doors as it left.
The man suspected of threatening behaviour is described as about 5ft 9in, well-built with a number of tattoos and wearing a white, sleeveless vest top.
He was with a second man who was wearing a white football-style top.
Pc Linda Carey-Harris said: "Although no violence was used, the man's threatening behaviour left the train manager shaken."
Officers believe they may have been intending to travel to Parson Street rail station in Bristol and are appealing for information.