State of finances 'brutal', warns Scots secretary.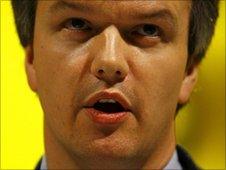 The "brutal" state of the UK's public finances will mean real cuts north of the border, the new Scottish Secretary Michael Moore has warned.
The Liberal Democrat MP's comments came in the face of the £155bn deficit facing the UK.
Mr Moore spoke as he became the first secretary of state for Scotland to address the Scottish Parliament.
The visit followed a similar trip by David Cameron as part of his Westminster/Holyrood "respect agenda".
Meanwhile, Scottish Finance Secretary John Swinney has reiterated to public sector bosses the need to deliver maximum value for money in the face of "Westminster cuts".
Addressing Scottish Parliament committee conveners on the spending decisions ahead, the Scottish secretary warned: "It's going to be tough."
Mr Moore went on: "None of us at the moment can escape the brutal reality of the state of the public finances."
The minister said the spending deficit equated to £2,500 for "every man, woman and child across the United Kingdom", adding: "It's a staggering sum of money and it's no surprise in that context that the major priority of the United Kingdom is to tackle that deficit.
"For the Scottish Parliament and the Scottish government, you're going to be dealing with real cuts over the next few years.
"That's going to be tough - it's going to be tough for all of us."
Mr Moore was recently appointed to government after his predecessor, Danny Alexander, became chief secretary to the Treasury.
Mr Swinney and other ministers have written to council leaders, NHS bosses and quango chiefs, warning that no part of the public sector will be immune from potential spending cuts.
"Scotland is facing a massive financial challenge in dealing with the fall-out from the mismanagement of the UK's finances," he said.
"We are very aware that much work is already underway, but we must be vigilant and determined in pursuing economy and efficiency over and above what has already been achieved."
Related Internet Links
The BBC is not responsible for the content of external sites.