Church bones 'belong to Caravaggio', researchers say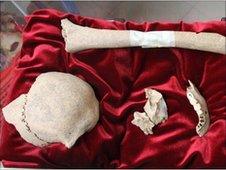 Human remains found in a church in Tuscany almost certainly belong to Renaissance artist Caravaggio, Italian researchers said.
The team said they were 85% sure that the set of bones of a man who died in about 1610, aged between 38 and 40, were that of the painter.
The remains had been kept in an ossuary in a church crypt in Porto Ercole, after reportedly being exhumed in 1956.
Caravaggio was known for his "chiaroscuro" painting technique.
The method, in which light and shadow are sharply contrasted, revolutionised painting.
The researchers, from four Italian universities, said they believed Michelangelo Merisi da Caravaggio died of sunstroke while weakened by syphilis.
The findings come after a year-long investigation using DNA, carbon dating and other analysis.
The cause of his death had been a mystery, with various theories put forward, including that he was assassinated for religious reasons, and that he collapsed with malaria on a deserted beach.
Some have said he was on his way to Rome to seek a pardon when he died.
Carravagio was famed for his wild lifestyle, including often starting fights and ending up in jail. He even killed a man.
He was born in either 1571 or 1573, according to varying scholars, and spent the last few years of his life fleeing justice in southern Italy.
His works include Bacchus, The Supper at Emmaus and Sacrifice of Isaac.
The remains are believed to have lain originally in an unmarked grave among around 200 others at the church cemetery, until they were exhumed in 1956 and placed in the ossuary.