James Bond link for Scottish trumpet festival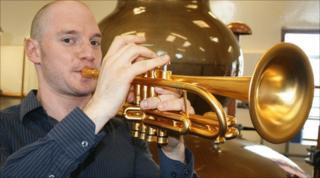 A Scottish International Festival of Trumpets is getting under way in Moray.
The three-day event in Elgin, which will run until Sunday, has attracted internationally-renowned players including Derek Watkins and Adam Rapa.
Mr Watkins has played on James Bond theme tunes including Goldfinger.
Brass players in local schools have been invited to workshops, and youth band Moray Concert Brass is also to perform.
Glenn Munro, chairman of the Scottish International Festival of Trumpets, said he was delighted to have such a high calibre of performers.
He said it gave locals and visitors "the opportunity to hear world class music right on their doorstep".
Two central locations - St Giles Church and Elgin Town Hall - will be used.
A full programme of events taking place during the Scottish International Festival of Trumpets can be found at www.sift-uk.com