Baby girl joy for Surrey stab victim Abigail Witchalls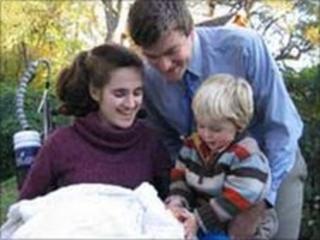 Abigail Witchalls, who was left partly paralysed after a knife attack in 2005, has given birth to a girl, it has been revealed.
Mrs Witchalls, now 31, was critically ill after the attack near her home in Little Bookham, Surrey.
Her husband Benoit said she gave birth to Rebecca Grace at St George's Hospital in south London on 6 June.
The couple have two other children, Joseph who witnessed the stabbing, and Dominic who was born as she recovered.
In a note published on Wednesday, Mr Witchalls they were "delighted and blessed" to announce the birth of Rebecca Grace.
"We were back home with her by Sunday lunch. She has a full head of hair, is breastfeeding well and weighs in at 7lb 12oz."
Mrs Witchalls, who was 10 weeks pregnant with Dominic during the attack, was given the last rites before her condition improved.
Surrey Police said evidence pointed to the offender being 23-year-old Richard Cazaly - a garden centre worker who lived in Little Bookham and committed suicide in Scotland a week after the attack.