First Minister accepts Bloody Sunday report findings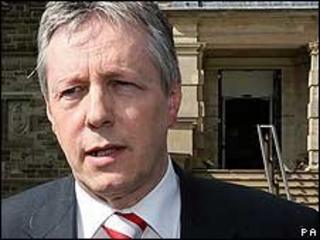 The First Minister Peter Robinson said the Saville Report should give closure and a sense of justice to the families of the victims after 38 years of waiting.
He said he accepted the conclusions of the report.
Prime Minister David Cameron has ruled out further "Saville-like" inquiries.
He said he understood the grief of such families and promised that those responsible for terrorist acts would still be prosecuted.
Mr Cameron also said he personally found it "painful" to have to sit around a table with Northern Ireland's deputy First Minister Martin McGuinness because of his IRA background.
However Mr Cameron said it was a price worth paying for peace.
'Wrong'
Thirteen people died after paratroopers opened fire during a civil rights march in Londonderry on 30 January 1972. Another person died of his injuries some time later.
Lord Saville's report said Mr McGuinness was present on the day and probably armed with a sub-machine gun but did not engage in any activity that caused the soldiers to open fire.
First Minister Peter Robinson said what happened was "wrong" and "unjustified".
"After the length of time, the detail that is provided in that report, I think you cannot pick and choose the elements of that report that you accept and those that you do not.
The former Northern Ireland Secretary Shaun Woodward suggested there should be what he called "a process of reconciliation and truth recovery" to examine all unresolved killings.
The Conservative peer Lord Tebbit, whose wife was seriously injured in the IRA Brighton bombing said many terrorist had escaped prosecution for crimes far worse than anything done by paratroopers on Bloody Sunday.
He urged Mr Cameron to consider holding an investigation into the Brighton bombing.
"My anxiety now is that we should not divide victims into first and second class victims.
"In my mind are the victims of the IRA's bombing of the Grand Hotel in Brighton. Are they not to achieve closure?"