Alvin Greene: Just who is he?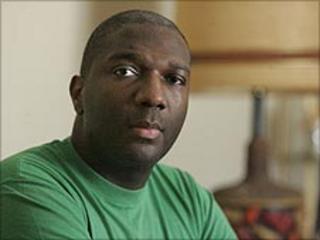 The victory of the mysterious Alvin Greene in the South Carolina Democratic primary for the US Senate race left many scratching their heads, with the losing candidate making an appeal on Thursday. But who is the enigmatic winner?
Alvin Greene has been given a hard time since his primary victory last week.
He has been ridiculed on YouTube, accused of being a "plant" by senior Democrats, and questioned over his mental state on live television.
Much has been made of the fact he is unemployed, was unknown to local Democrats and seemed to have done no campaigning. Despite this he won the primary 59% to 41% and will now face incumbent Senator Jim DeMint in November's general election.
A number of journalists have highlighted Mr Greene's tendency to resort to a rehearsed list of stock phrases in interviews, and speaking on the phone with him does lead to a certain sense of deja vu.
There are some questions he can answer reasonably quickly, such as the nature of his election platform.
No events
"I'm focusing on jobs, education and justice," he told me. "More parental involvement, especially for underperforming students. We want to make sure the punishment fits the crime.
"We have to stop my opponent and the Republicans from reversing forward progress."
Asked what fundraising events, meetings or rallies he has planned, after a pause he answers: "I don't have any formal events planned, nothing formally planned."
What he is up to next week?
There is a long pause, before he answers: "I've a lot of stuff this week."
The pundits have been wondering how an unemployed man with no known prior involvement in politics can get a shot at high office.
There has also been much negative attention after it was revealed that he has a pending charge for "disseminating, procurring or promoting obscenity". An 18-year-old University of South Carolina student says he showed her a pornographic image. He will not comment on the alleged incident.
'Best candidate'
Thursday's meeting of the South Carolina Democrats' 92-strong executive could overturn the primary result or order a new election, but Mr Greene seems unconcerned.
"I'm the best candidate for the US Senate in South Carolina," he notes.
The candidate he beat was Vic Rawl, a former judge and state legislator. Mr Rawl is protesting over the result.
Mr Rawl's campaign manager, Walter Ludwig, says their protest includes independent statistical analyses of unusual voting patterns, as well as evidence that the electronic voting machines used were unreliable.
There have been some who have suggested that the underdog's victory may simply be down to alphabetical order, since he appeared first on the ballot.
But this cannot be responsible, says Mr Ludwig. He also dismisses the idea that Mr Rawl was too low-profile.
Mr Rawl attended 80 Democratic events around the state, drove 17,000 miles, had an active website and numerous Twitter followers, made 250,000 automated calls and sent 300,000 e-mails, Mr Ludwig notes.
Flyers question
"Mr Greene did nothing. He filed his filing fee and then disappeared," he says.
"He didn't come to any Democratic events, including one in his own home town and probably was as surprised as anybody to have won on election night."
But Mr Greene is having none of it.
"I campaigned and I had campaign material such as flyers."
How many flyers did he give out? There's a bit of a pause before he answers: "There was quite a bit."
Many have asked how Mr Greene, who is unemployed, raised the $10,000 required to enter the primary.
"I saved it when I was in the United States Army," he explains. "During the primary I was self-funded and self-managed. It was a low-budget campaign."
Some of those who have questioned Mr Greene's mental state have suggested it might have been the reason he left the US Army last year, but he won't be drawn.
"It was kind of the same thing as the reason I had to leave the air force. It is a long story."
His voice does fill momentarily with animation when he recalls that he was posted to RAF Alconbury and RAF Molesworth in Cambridgeshire, in the UK, in 2000.
And he is keen to discuss how he would generate jobs.
"We have some transportation projects that we want to go back to that were put off after 9/11. Like interstate highways. I want to implement alternative forms of energy, everything from solar to wind and methane."
He denies utterly that he was put up to running.
"I thought of this about two years ago as a soldier serving in Korea because I just saw two years ago things were just not looking good for the United States economy. I thought if I had a chance I would like to make things better.
"I've followed politics since I was a child. I'm a native of South Carolina. "
Key phrases
Annabelle Robertson, a columnist on local newspaper The Item, spent two hours with Mr Greene.
"He sways from foot-to-foot when you are talking with him. He wrings his hands. He repeats himself. He has key phrases he repeats over and over. He has trouble being too close to people."
He is not very articulate, she suggests.
"I was surprised he was in intel [US Army intelligence]. He can barely string two sentences together."
Indeed, his sentences are often followed by "erms" and long pauses. Then again, he does have a degree in politics from the University of South Carolina.
And he is dismissive of Todd Rutherford, the South Carolina legislator who questioned his mental state.
"He is one of the knuckleheads," Mr Greene says, before descending into giggles.
The interview is over.