Gas cylinder fire forces worker evacuation in Aberdeen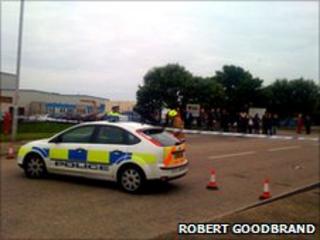 A gas cylinder fire in Aberdeen has forced workers to be evacuated and a 200m cordon to be set up.
The emergency services were called to the city's Hareness Road at about 0720 BST.
The blaze started inside the National Oilwell Varco buildings, which were evacuated. It is understood that people in nearby homes will not be asked to leave.
All the roads in the area have had to be closed. No-one was hurt.
Do you have pictures of this incident? Send them to the BBC Scotland news website at newsonlinescotland@bbc.co.uk
Please ensure when filming or photographing an incident that you make your safety and the safety of others a priority.