Loan firms warned over 'unacceptable' legal tactics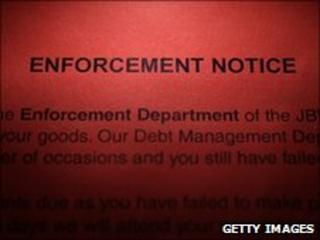 Loan companies have been warned by the Office of Fair Trading OFT) not to sue defaulting customers in different legal jurisdictions of the UK to the one they live in.
It said the tactic was unfair and might stop people from defending themselves.
The OFT has warned Creation Consumer Finance not to sue Scottish borrowers in the English courts.
Creation said it had told its lawyers to cease the activity as soon as the OFT had raised the issue with it.
Guidance
The regulator has ordered all loan companies to avoid similar tactics.
"Issuing proceedings in a different jurisdiction is clearly unacceptable and lenders should take heed that the OFT will act to prevent this practice," said Ray Watson of the OFT.
"Lenders must also be aware that they are fully responsible for the actions of third parties acting on their behalf, and must ensure those third parties do not breach our guidance."
The OFT said Creation Consumer Finance offered loans at the point-of-sale to customers of stores, home improvement firms and car dealerships.
Creation, based in Belfast, is owned by the French group, Laser.
The regulator said the practice of using solicitors to sue Scottish customers in English courts - outside their home legal jurisdiction - was "unacceptable."
It placed the customers at a big disadvantage because of the unfamiliar legal procedures involved and the distances they might have to travel to defend themselves, the OFT said.
Creation said it was not happy with the OFT's decision.
"As soon as the OFT drew our attention to this, [we] instructed the lawyers carrying out this practice in our name to cease this activity with immediate effect.
"Creation is disappointed and aggrieved that the OFT has chosen to impose public sanction on us rather than raise the issue (of non-adherence to its guidelines on debt collection) directly with the legal profession who are practicing this activity of their own volition."