China says Pakistan nuclear deal 'peaceful'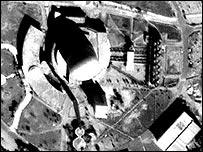 China has said its civilian nuclear co-operation with Pakistan is peaceful.
A spokesman for the Chinese foreign ministry said its plan to provide Pakistan with two new reactors was in line with international obligations.
Earlier this week, the United States expressed concern at the deal.
Fears over Pakistan's nuclear activities rose in 2004 after a top scientist admitted leaking nuclear technology to North Korea, Libya and Iran.
Relations between Pakistan and its neighbour India are also of continuing concern. Both are nuclear-armed.
China's foreign ministry spokesman said: "I want to stress that the civilian nuclear co-operation between China and Pakistan is in line with each side's international obligations.
"It is for peaceful purposes, and is under the supervision of the International Atomic Energy Agency," he told a news briefing in Beijing.
On Tuesday the US state department said it had asked China to clarify the details of its sale of additional nuclear reactors to Pakistan.
"This appears to extend beyond co-operation that was grandfathered when China was approved for membership in the Nuclear Suppliers Group," it said.
The 46-nation group regulates trade in "dual-use" nuclear fuel and technology to ensure material meant for civilian energy use is not diverted into clandestine nuclear weapons programmes.
The United States is a key ally of Pakistan. It has its own civilian nuclear co-operation accord with Pakistan's rival, India.
Pakistan would like a similar deal with the US, reports say, but continued fears over its proliferation record remain a major stumbling block.
In May 2009 Pakistan denied it was expanding its nuclear arsenal after the US said it had unearthed new evidence that it had done so.
Pakistan built its first nuclear power station in 1972 in Karachi with the help of Canadian experts.
But Western countries, lobbied by the US, later halted co-operation amid fears that Pakistan was secretly developing nuclear weapons.
Pakistan currently has three nuclear reactors, one for military use. The two to be built by China will take its number of civilian reactors to four, the BBC's Syed Shoaib Hasan in Karachi says.
Related Internet Links
The BBC is not responsible for the content of external sites.