Illegal bushmeat 'rife in Europe'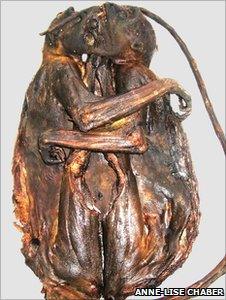 About 270 tonnes of illegal bushmeat could be passing through one of Europe's busiest airports each year, the first study of its kind estimates.
A team of researchers says the illicit trade could pose a risk to human or animal health and increase the demand for meat from threatened species.
The figure is based on seizures from searches carried out over 17 days at Charles de Gaulle airport in Paris.
The findings appear in the journal Conservation Letters.
A team of researchers from France, Cambodia and the UK said it was the "first systematic study of the scale and nature of this international trade".
"We estimate that about five tonnes of bushmeat per week is smuggled in personal baggage through Paris Roissy-Charles de Gaulle airport," they wrote.
During the 17-day study, a total of 134 passengers arriving on 29 flights from 14 African nations were searched.
Nine people were found to be carrying bushmeat, which had a combined mass of 188kg.
In total, 11 species were found - including two types of primates, two kinds of crocodiles and three rodent species - four of which were listed as protected species.
Co-author Marcus Rowcliffe from the Zoological Society of London (ZSL) explained why the international team of researchers decided to carry out the research.
"As no study like this had been carried out before, we really had no idea as to the volume of bushmeat coming into airports," he told BBC News.
"It was a surprise when we saw how much was arriving."
The products were not only imported for personal consumption, but were part of a lucrative organised trade with high prices indicating luxury status, Dr Rowcliffe added.
"A 4kg monkey will cost around 100 euros (£84), compared with just five euros in Cameroon," he said.
Based on the data gathered from the 29 flights covered by the study, the researchers then calculated the weekly and annual inward flow of bushmeat.
"Assuming that (the study's) rates are representative of the average weekly rate over the year, this equates to... 273 tonnes of bushmeat," they calculated.
The team suggested that there were likely to be a number of factors behind the large volume of bushmeat being imported.
"First, detecting and seizing these products is not a priority," they explained.
"Second, penalties for importing illegal meat or fish are low and rarely imposed. Third, the rewards for transporting bushmeat are potentially high."
The researchers acknowledged that the study had a short time scale and limited geographical coverage, and said that a longer and large scale survey was now required to build on the findings.
However, they added that their study did allow them to consider ways to control the trade.
They suggest offering incentives to customs officers, increasing the penalties for illegally importing the products and raising awareness among passengers that bringing such products into the EU was prohibited.
The team concluded: "The large scale of current imports makes it important to consider all options for reducing the flow of illegal meat and fish, and of bushmeat in particular."