Esa chief Jean-Jacques Dordain stays in post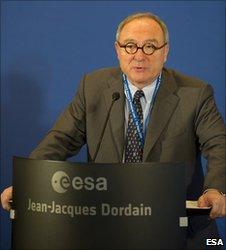 The European Space Agency's Director General, Jean-Jacques Dordain, will stay on in his post for a third term.
His continued role was confirmed by a council meeting of the Paris-based agency held over the past two days.
The Frenchman came into office in 2003 and was expected to stand down in 2011.
It was thought a German national would succeed him, but the German delegation to Esa indicated it did not currently have a suitable candidate and called for Mr Dordain to carry on in the job.
He will now hold the position until June 2015.
During Mr Dordain's time at the helm, Esa has launched a swathe of Earth observation spacecraft and interplanetary probes.
The agency has also launched many important space astronomy and human spaceflight missions.
The 215th Esa Council meeting also elected David Williams as its chairman. The acting chief executive of the new UK Space Agency will take the role for one year, starting on 1 July. As chairman, he becomes the most senior member state delegate.
One of his tasks will be to lead the interview selection of new new directors at Esa. A number of these positions are about to become vacant.
Speaking of the director general's further term, Mr Williams said a key challenge would be dealing with the present economic crisis affecting Europe.
"Mr Dordain understands the situation and it will be his job to manage the agency through these difficult times," the Briton told BBC News.
Esa spending in 2010 and 2011 has been frozen. Its budget this year is about 3.7bn euros in total. Spain, in particular, which contributes some 5% (195m euros) of Esa's funding is having difficulties meeting its subscription. It has asked the agency, if necessary, to take out a loan to cover any shortfall in that subscription.
Another major issue on Mr Dordain's agenda is the developing relationship with the European Union. Under its Lisbon Treaty, the EU claims "joint competency" with its member states on space policy.
Esa and the EU have different legal frameworks and their memberships are not a facsimile of each other.
They are already working together on two big projects - the Galileo satellite-navigation system and Gmes, an Earth observation programme.
The EU is also considering other areas of activity, including the very expensive realm of human spaceflight.