Court extends ban on Dutch sailor girl Laura Dekker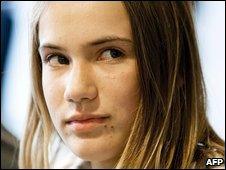 A Dutch court has extended a ban on a 14-year-old schoolgirl's bid to become the youngest person to sail solo round the world.
Laura Dekker must endure another frustrating delay after the ruling on Thursday that she must remain under state supervision for another month.
A district court ruled that the safety risks were still too high.
Miss Dekker must complete the two-year trip before she turns 17 in September 2012 to break the record.
The court at Middelburg in south west Holland granted an application by child protection services to keep Miss Dekker under their supervision until 1 August.
"Not enough attention has been paid to the court's concerns for her social-emotional and identity development," judge Suzanne Kuypers was quoted as saying by AFP news agency.
"The court is of the opinion that it is in the interests of the child to extend the supervision."
Last December, a Dutch court ruled that the teenage sailor could remain with her father, despite his support for her plan to sail solo round the world.
The court was considering whether the girl should go into foster care. Miss Dekker appeared in court on that occasion with her parents, who separated when she was six.
Miss Dekker has been under state supervision since last October, when the Utrecht court blocked her bid to become the youngest person to sail the globe solo.
The order stayed in place until the end of her school year, next month.
The experienced sailor was born on a yacht off the coast of New Zealand during a seven-year world trip. She had her own yacht by the age of six and began sailing solo when she was 10.
Her father, Dick Dekker, supports her attempt at the record, but her mother has expressed concerns.
Miss Dekker had planned to spend about two years aboard her 11.5m (38ft) boat, Guppy, to break the record set in August by a 17-year-old British boy.
Related Internet Links
The BBC is not responsible for the content of external sites.