Press debate government's budget spending cuts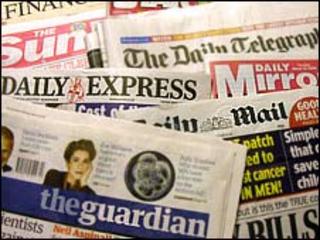 The public spending cuts announced to the Commons by Danny Alexander are the focus of some of the front pages.
The Times talks of "the axe falling early" on £11.5bn of spending, with these cuts being a taste of what's to come in next week's budget.
The Daily Telegraph and Daily Express suggest millions of middle class families will lose Child Tax Credit.
BP grilling
Across the top of the Guardian's front page is a picture of the BP chief executive,Tony Hayward, preparing to go before a US Congressional committee.
According to the Sun, Mr Hayward "ducked and dived" and was "oily and not very slick".
The Mirror says Mr Hayward "grovelled" - and calls him "the master of disaster".
But the Telegraph saw the hearing as an inquisition and said a kangaroo court would have offered a fairer hearing.
The Independent devotes its front page to reproducing a letter it's received from the Burmese opposition leader, Aung San Suu Kyi.
She has spent most of the past 20 years under house arrest. The paper describes it as a desperate plea, smuggled out of Burma and passed to the paper.
Plane drama
The letter was written by a senior member of Aung San's National League for Democracy.
It appeals to the world for assistance in bringing democracy to Burma.
"England expects" according to both the Sun and the Mirror.
Both devote their front pages to England's World Cup match against Algeria - the Mirror's first five pages are all about the football.
The Times reports on a bit of a crisis on board an American Airlines plane on Monday.
The First Officer became ill, so a 61-year-old stewardess was drafted in after revealing she had an expired pilot's licence from the 1970s.