UK new public sector borrowing lower in May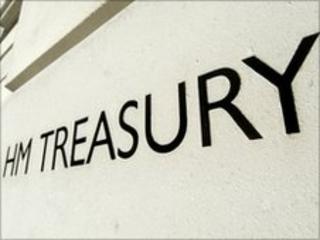 The level of new public sector borrowing declined in May, official figures have shown.
Net borrowing last month totalled £16bn, down 8% from £17.4bn in May 2009, according to figures from the Office for National Statistics (ONS).
The ONS said total government debt was £903bn, equivalent to 62.2% of the UK's annual economic output.
The coalition government has pledged to reduce how much it has to borrow to fund public services.
On Thursday, the government cancelled 12 projects worth of total of £2bn that had been approved by the previous Labour government since the start of 2010.
Next Tuesday's Budget is expected to include more cuts in public spending.
'Unsustainably high'
May's borrowing figure was less than analysts' expectations, but commentators said it remained far too high.
The sum of all borrowing - net debt - was £129bn higher in May than the same month a year earlier.
"Does this detract from the case for a big fiscal tightening next week? No." said Philip Shaw, chief economist at Investec.
"UK borrowing remains unsustainably high and fully justifies a big retrenchment in government spending."
Howard Archer, chief UK and European economist at IHS Global Insight, said the latest borrowing figures would give Chancellor George Osborne a "mini boost".
He said that tax revenues were growing as the UK economy continued to recover.
"Nevertheless, the public finances are still dire so May's improved data will not deflect Mr Osborne from pressing ahead with his plans to step up the pace of fiscal consolidation in Tuesday's emergency Budget," added Mr Archer.
'Reassured'
The Institute for Fiscal Studies said Mr Osborne's efforts to reduce the budget deficit would be helped by the fact the latest ONS figures showed a rise in both income tax and VAT receipts.
VAT receipts in May were 11.9% higher than a year earlier, while those from income tax, capital gains tax and national insurance contributions were up by a collective 7.3%.
Corporation Tax receipts last month had also increased from May 2009, rising by 15.7%.
IFS senior research economist Gemma Tetlow said Mr Osborne "may be reassured" by the figures.
"However, with the OBR [Office for Budget Responsibility] last week forecasting that borrowing this year will be £155bn, the challenge for next week's Budget will be to set out how the new government plans to reduce borrowing over the next few years in order to meet their chosen fiscal targets," she added.