England World Cup hero Nobby Stiles suffers stroke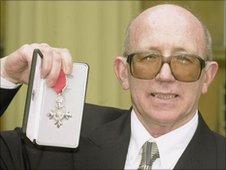 England World Cup winner Nobby Stiles is recovering at home after suffering a stroke.
The former Manchester United midfielder spent two days in hospital last week after the "very minor" stroke, said his agent Terry Baker.
Stiles, 68, suffered disorientation which was diagnosed as a Transient Ischaemic Attack and is expected to undergo surgery in a few weeks.
But he will be watching England's World Cup clash with Algeria, Mr Baker added.
Doctors described the incident as a "very minor stroke and nowhere near as serious as some strokes can be," Mr Baker said.
"When I spoke to him this morning he told me he had suffered a moment of disorientation.
"He joked that both of us have been having moments of disorientation for the last 30 years."
Mr Baker said Stiles, from Stretford, had seen a cardiovascular consultant and was expected to undergo surgery in the next few weeks.
"In the meantime, he's at home and in good spirits," he added.
"But he's had to cancel a number of engagements for the time being."
As well as winning the World Cup with England in 1966, the midfielder won two league titles and a European Cup during an 11-year career with Manchester United.
He was awarded the MBE in 2000 for his part in England's 4-2 victory over West Germany on 30 July in 1966.