Alert after artillery shell found in Ramsey lane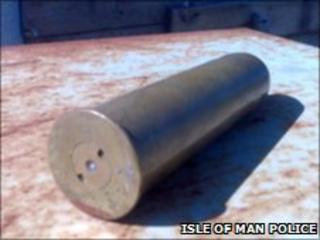 An alert was sparked in the north of the Isle of Man when a World War II shell was found dumped in a lane.
A member of the public raised the alarm after finding the 2lb (0.9kg) artillery shell between Walpole Drive and Queens Drive, Ramsey, on Thursday afternoon.
The area was sealed off while experts examined the device, which was found to be empty of explosives and was safely removed from the area.
Manx Police said it was was "extremely irresponsible" of someone to dump it.
Officers believe the artillery shell, which dated from 1941, had been a WWII souvenir.
Public advice
"The round was a genuine piece of ammunition and if still containing explosives would have been of potential danger to the public.
"It was not obvious from initial inspection as to whether this was safe or not and it was extremely irresponsible of someone to simply dump the item.
"We would request that any member of the public who wishes to dispose of ammunition, current or historic or explosive material, which could cause concern if found, to dispose of such items in a responsible manner through the appropriate channels."
"If any items are located the public should not move or touch such items and should immediately contact the police."