UN to probe 'beating' of deported Iraqis by UK staff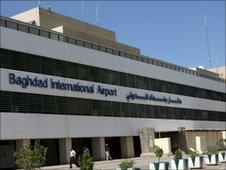 The UN refugee agency is investigating allegations that deported Iraqi asylum seekers were beaten by UK Border Agency staff to get them on and off the plane.
It is believed 42 Iraqi men were flown back to Baghdad in a forced return.
Sixteen are still being held at Baghdad airport where they arrived early on Thursday.
The UKBA declined to comment on the specific allegations, but said minimum force would only be used as a last resort.
The deportation was carried out by the UKBA in conditions of complete secrecy, with no information of any kind being given out.
The chief of security at Baghdad airport, Col Athir al-Musawi, told the BBC that 16 men were being detained while their identities and papers were verified.
The other deportees were released after it was established that their papers were in order.
The UN refugee agency, the UNHCR, said that all 14 of the deportees whom its lawyers in Baghdad spoke to alleged that they had been beaten and forced to get on the plane in London.
Six of the Iraqis who were met in person had "fresh bruises that indicated mistreatment could have occurred", the UNHCR spokesman in Geneva, Andrej Mahecic, said.
One of them, Sherwan Abdullah, a Kurd, told the BBC by telephone that he and others had been beaten by UKBA personnel to force him off the plane in Baghdad.
"They were grabbing us, they told us if you don't come down, we're going to beat you badly, and we're going to take you out," said Mr Abdullah, who had lived in England for eight years.
"If somebody wasn't willing to come out, they grabbed them, they grabbed the neck, they nearly killed them, these people could not breathe."
Mr Abdullah also said that all his money had been stolen by the Iraqi police at the airport.
This was strongly denied by Iraqi officials, and other deportees told UNHCR that they had been well treated at Baghdad airport.
Despite repeated requests, the UKBA declined to respond to the allegations that force had been used on the expelled Iraqis.
Instead, it issued a general policy statement saying that "a minimum use of force is an absolute last resort, and would only ever be used when an individual becomes disruptive or refuses to comply".
"Even then, force is only carried out by highly trained officers, and should be carefully monitored, proportionate, and used for the shortest possible period to ensure compliance."
The deportation was the third of its kind carried out by the UKBA since last October.
The flight, apparently taking off from a secure area of London's Heathrow Airport late on Wednesday, landed at around 0600 (0300GMT) at Baghdad airport on Thursday and journalists were not allowed any access.
Airport officials said this was on the orders of the Iraqi government spokesman.
Iraq's official policy is against forced returns.
But Iraqi interior ministry officials visited detention centres in the UK to interview the failed asylum seekers before they were sent back.
Britain was eager to avoid the embarrassment that occurred when the first deportation flight happened last October, when 33 out of 44 forcible returnees on board were sent back to the UK.
"We are not in favour of forced or compulsory returns because they are against humanitarian law," Iraqi Foreign Minister Hoshyar Zebari told the BBC.
"But in cases where asylum claims have been turned down after lots of appeals, we have a responsibility to look after our citizens and ensure an organised and humane repatriation."
"But it is a very thin line," he admitted.
The UNHCR spokesman, Andrej Mahecic, said the organisation had repeatedly told governments that they should not return asylum seekers to Baghdad and Iraq's five central provinces because the area is not secure enough.
The British Foreign Office's own travel advice says the situation remains "highly dangerous".
"Although there has been a decrease in the level of violence throughout Iraq the situation remains highly dangerous with a continuing high threat of terrorism throughout the country (except in the Kurdistan Region)."
Related Internet Links
The BBC is not responsible for the content of external sites.