Falls amongst the elderly cost the NHS millions daily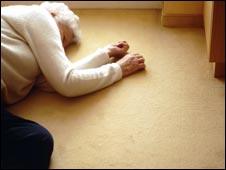 Falls among elderly people may be costing the NHS in England up to £4.6m a day, a charity has warned.
Age UK, which combines Age Concern and Help the Aged, says up to one in three people aged 65 and over fall each year.
Falls are a major cause of injury and death among the over 70s and account for more than 50% of hospital admissions for accidental injury.
Age UK says the elderly should be encouraged to take more exercise, to reduce the risk of falls.
The charity has released its figures to mark its first National Falls Awareness Week.
The commonest injury amongst elderly people who fall is a hip fracture, with 60,000 elderly people experiencing the injury each year.
The high cost comes from factors including the cost of a hip replacement operation, paying for patients to stay in hospital and their rehabilitation.
Around 14,000 die annually after a fall.
Age UK says evidence has shown if elderly people take part in exercise programmes specifically designed to improve strength and balance, the risk of falls can be cut by up to 55%.
In addition, relatively low-cost measures in the home such as better lighting and grab rails can help, as can councils ensuring pavements are level and that any obstructions are quickly cleared.
But the charity says one in five older people admit they cannot remember the last time they did any exercise.
Michelle Mitchell, charity director at Age UK, said: "Despite costing the NHS £1.7 billion per year, the issue of people in later life falling over is all too often dismissed as an inevitable part of the ageing process.
"The reality is that there are a number of things older people can do help prevent falls, such as exercises to improve strength and balance, and more should be done to promote and support this."
National development manager Philip Hurst added: "Overall, the picture isn't getting better.
"But there are some places that have taken this issue seriously and have shown some significant results."
A spokesman for the Department of Health said: "Physical activity and regular exercise is one of the best ways for older people to prevent falls and fractures.
"We are actively promoting a healthy lifestyle for people of all ages. Weight bearing exercise and a balanced diet can help to increase bone mineral density and protect against osteoporosis and the risk of fractures later in life."
Related Internet Links
The BBC is not responsible for the content of external sites.