Jail for smugglers after lorry stopped at Killingholme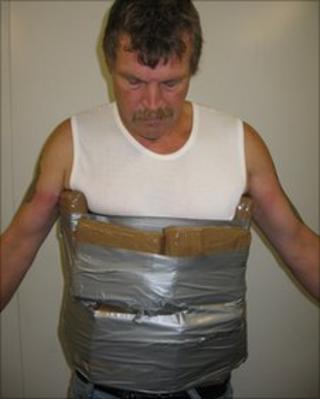 Two men have been jailed for trying to smuggle heroin valued at up to £5.2m into the UK in a lorry load of jam.
Marcel Casper Gerardus Reitman, 39, and Mathieu Peter Josef Poulissen, 51, tried to smuggle the drug through Killingholme docks, near Immingham.
Poulissen, of Venlo in the Netherlands, was jailed for 20 years at Grimsby Crown Court on Friday.
Reitman, of Tegelen in the Netherlands, was jailed for 18 years. The UK Border Agency welcomed the sentences.
The men's vehicle was stopped after it passed through a UK Border Agency scanner at the docks on 16 September last year.
'Significant seizure'
On closer inspection officers uncovered 20 packages of heroin. Searches also found 11 packages containing the drug taped to Poulissen's body.
The men had travelled on a ferry from the Hook of Holland in the Netherlands.
Andy Lumb, assistant director of the UK Border Agency in Yorkshire and the Humber, said: "This was a significant seizure that reflects the robust controls we have in place at the UK border.
"This sentence reflects the severity of the offence of trying to smuggle illegal drugs into the UK and we will continue to do everything within our power to prevent Class A drugs entering the country."