Gambia ex-military chiefs charged over 'coup plot'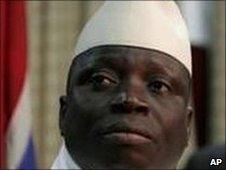 Prosecutors in The Gambia have charged the former heads of the navy and army with plotting to overthrow President Yahya Jammeh.
Former navy chief Sarjo Fofona and ex-army chief of staff Gen Langtombong Tamba are accused of being part of a 2006 alleged coup attempt.
Gen Tamba is already on trial alongside other army officials for his alleged part in a failed coup last year.
President Jammeh himself seized power in a coup in 1994.
He has since won three elections, amid opposition allegations of harassment.
His critics say his government is using allegations of coup plots to intimidate potential rivals and settle scores.
Some reports suggest the arrests may be linked to the recent seizure of more than two tonnes of cocaine in the country.
The two former military chiefs "refused or neglected to report [a coup plot] to the appropriate authorities within a reasonable period or time", prosecutors say, according to the AFP news agency.
Another group of senior military officials and businessmen was arrested in March and accused of planning to seize power.
Several people were sentenced to long prison terms over the 2006 coup attempt.
Related Internet Links
The BBC is not responsible for the content of external sites.