Emergency Budget dominates press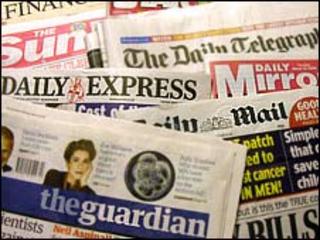 The emergency Budget being announced next week dominates much of the day's newspaper coverage.
According to the Times's lead, it will target the pay and pensions of public sector workers.
The Daily Mail's main story says the Budget will be the most hard-hitting for almost 30 years.
It highlights a sharp rise in airport departure charges, increasing the tax bill for a family of four on a long-haul flight to £300.
The Guardian has a story about the government's flagship policy of Swedish-style "free" schools.
It says the government stands accused of draining money from schemes aimed at the poorest children in order to fund these new schools.
The Daily Telegraph says Germany and France are examining ways of creating a "two-tier" euro system.
This is to separate stronger northern European countries from weaker southern states.
World Cup woes
England's goalless draw with Algeria is on most of the front pages.
For the Guardian, the match was "another England carry on", the Daily Express says it was worrying and the Star found it "torture".
The papers heap much of the blame on Wayne Rooney, with the Daily Mirror describing the team's performance as a "load of Roobish".
The Telegraph says he looked as if he had been replaced by a leaden-footed doppelganger.
The Sun says the battered red box used by Chancellors for 150 years will be used for the last time next week.
According to the paper, experts say the box is so fragile that it must be retired to preserve it.
The Independent says the All England Club will not be showing football on big screens at Wimbledon.
The club's chairman, Tim Phillips, says: "If you want to watch the football, you can go to South Africa or watch it on television".