Eleven killed in 'US missile strike' in Pakistan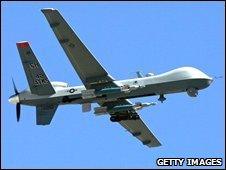 At least 11 people have been killed in a suspected US missile strike in the Pakistani tribal region of North Waziristan, local officials say.
A drone aircraft targeted a house in a village about 25km (15 miles) east of the main town of Miran Shah.
The identities of the dead are not yet known. The officials said militants were believed to have been inside.
The lawless region, a haven for members of the Taliban and al-Qaeda, has been repeatedly targeted by US drones.
Last month, al-Qaeda number three and Afghan operations chief Mustafa Abu al-Yazid, also known as Sheikh Said al-Masri, was believed to have been killed in such a strike in North Waziristan.
Residents told the Reuters news agency at least three drones were still flying over the village targeted on Saturday, and that they were afraid to approach the destroyed house because of them.
Some 70 drone strikes have killed more than 200 people in North and South Waziristan since the start of 2010, officials say.
Pakistan publicly criticises drone attacks, saying they fuel support for militants. But observers say officials privately condone the strikes.
The US military and CIA do not routinely confirm drone operations, but analysts say only they have deployed such aircraft in the region.