Supermodel Eva Herzigova opens Harrods sale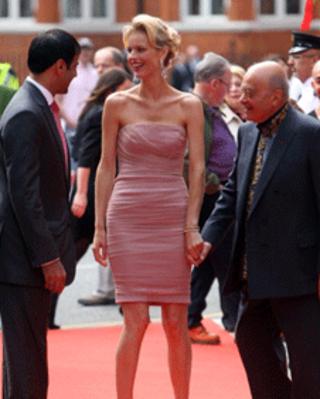 Supermodel Eva Herzigova has opened the Harrods summer sale in Central London after arriving in a horse-drawn carriage flanked by footmen dressed in the store's green livery.
She was greeted by retiring owner Mohamed Al Fayed, before posing for photographs.
The pair were joined on the red carpet by Khalifa Al Kuwari, chief operating officer of Qatar Holdings, which is buying the store on behalf of the Qatari royal family for a reported £1.5bn.
Last month it was announced Mr Al Fayed, now honorary chairman of Harrods, had decided to sell up.
'Sneak peek'
Harrods director of corporate affairs, Katharine Witty, paid tribute to Mr Al Fayed, who has owned the store since 1985.
She added: "He has taken the institution and created this wonderful, luxurious store it is today, so Mr Al Fayed from all of us thank you for all you've done."
Mr Al Fayed and Ms Herzigova then took part in a countdown, before the queues of shoppers streamed through the doors to begin hunting for bargains.
The model joked to reporters: "We did walk through the shoes and bags, accessories department so I might have a peek in there again."
Harrods holds a sale twice a year and the summer sale will run until 11 July.
Ms Herzigova was invited to open the event after a scheduling clash forced Joanna Lumley to withdraw.