Italy raises alarm over blue mozzarella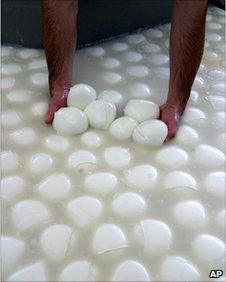 A batch of about 70,000 mozzarella balls which turned blue upon opening has been confiscated by food authorities in Italy, officials say.
The health ministry said it had activated the European "rapid alert" system to warn of possible contamination, and announced emergency control measures on the cheese.
The cheese - made in Germany for an Italian company - has been removed from shelves and samples sent for testing.
Mozzarella is Italy's favourite cheese.
About 60% of Italians regularly eat the soft, white cheese, according to the Italian farmers' group, Coldiretti.
The tainted mozzarella was spotted by a shopper in Turin, who noticed it take on a bluish tint when it was exposed to the air.
The woman then called the police, national media reported.
Health Minister Ferruccio Fazio alerted German authorities and the European Commission about the possible contamination.
Initial tests at an institute in Turin found the colouring to be caused by a bacterium, rather than toxic contamination, AFP reported.
Analysts suggested the colouring could also indicate the presence of copper, nickel or lead in the milk used to make the cheese, or the solution used to preserve it.
The cheese was made for an Italian company, which distributed it to discount supermarkets in the north of the country. Neither the German producer nor the Italian company involved have been named.
Related Internet Links
The BBC is not responsible for the content of external sites.