Iran hangs Sunni militant leader Abdolmalek Rigi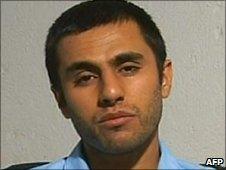 The leader of a Sunni militant group has been executed in Iran for his involvement in "terrorist" attacks in the Islamic state, state media report.
Abdolmalek Rigi, head of Jundullah, was hanged at dawn at Tehran's Evin prison in the presence of the families of its victims, the Irna news agency said.
Mr Rigi was accused of being behind a series of deadly bombings and raids in the province of Sistan-Baluchistan.
He was arrested in February while on a flight from Dubai to Kyrgyzstan.
Founded in 2003, Jundullah (Soldiers of God) says it is fighting to defend the human rights, culture and faith of ethnic Baluchis.
The majority of Iran's ethnic Baluchi population live in Sistan-Baluchistan and adhere to the Sunni branch of Islam. They claim that as a minority in a Shia state, they are persecuted by the authorities.
Sistan-Baluchistan is also the most impoverished, underdeveloped and sparsely-populated of Iran's provinces. Drug trafficking is a major problem, and kidnappings and armed clashes are common.
Iran's government says Jundullah receives support from the US, UK and Pakistan, an allegation which all three countries have denied.
Four months after being captured by Iranian security forces when he was flying over the Persian Gulf en route to Kyrgyzstan, Mr Rigi was hanged on Sunday morning in accordance with a decision by the Tehran Revolutionary Court.
"The head of the armed counter-revolutionary group in the east of the country... was responsible for armed robbery, assassination attempts, armed attacks on the army and police and on ordinary people, and murder," a court statement said.
Jundullah was "responsible for the killing of 154 members of security forces and other innocent people and wounding of 320 people since 2003" and was "linked to members of foreign intelligence services", it added.
Mr Rigi had allegedly pleaded guilty to forming the "terrorist group Jundullah which was fighting the Islamic republic" and a number of other charges.
"He collaborated and ordered 15 armed abductions, confessed to three murders, and ordered the murders of tens of citizens, police and military personnel through bombings and armed actions," the court statement added.
Jundullah has said it was responsible for a string of high-profile attacks in Sistan-Baluchistan, including a suicide bombing near the Pakistani border that killed 42 people, including six senior Revolutionary Guards commanders, and a bombing in a Shia mosque in Zahedan that killed 25 people.
Shortly after his arrest, state media reported that Mr Rigi had admitted that he had been on his way to a meeting with a "high-ranking person" at the US military base at Manas in Kyrgyzstan when he was captured.
"They said they would co-operate with us and would give me military equipment," he said in a video statement broadcast on Iranian TV.
Despite the loss of their leader, the confrontation between Jundullah and the Iranian authorities has shown no sign of abating.
The group recently asserted in a statement: "Let the regime know that it will face a movement that is stronger and much more solid than ever before and one whose existence it has not been aware of."
Mr Rigi's younger brother, Abdolhamid, was captured in Pakistan in 2008 and extradited to Iran. State media reported that he was executed last month in Zahedan after being convicted of terrorism.