Budget speculation in the Sunday papers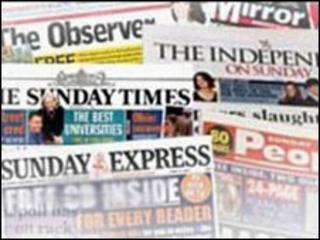 Speculation over the forthcoming Budget continues to dominate the headlines of the press.
The Sunday Telegraph says the chancellor is expected to unveil a £30bn package of spending cuts and tax rises in Tuesday's emergency Budget.
It says this will strip millions of middle income families of child-related benefits and target the public sector.
The Observer predicts the "biggest-ever assault on welfare benefits" and the People thinks VAT will rise to 20%.
The Sunday Mirror says health experts are urging the government to introduce a VAT "fat tax" on food high in saturated fat or salt.
This is to help combat heart disease and obesity.
The paper says foods such as sausages, butter, biscuits and cheese are currently exempt.
Time change?
The Observer says bars and pubs which stay open after 11pm must pay a "law and order" fee, under government plans to limit round-the-clock drinking.
The Sunday Express says Tourism minister John Penrose will "consider very carefully" proposals for British Summer Time to match with Europe.
The paper says supporters of the change claim it would boost tourism and cut road deaths.
Under the headline "Cape of No Hope", the Mirror says Wayne Rooney's World Cup problems are "in the mind".
The Independent issues an apology - for once calling England manager Fabio Capello a "genius".
Under the headline "Who cares about football", the Independent has a picture of England's rugby scrum half Ben Youngs.
He scored a try against Australia in England's 21-20 win in Sydney.
This is England's first win Down Under since their World Cup triumph in 2003, with a winning kick by Jonny Wilkinson.
And the England football fan who entered the players' dressing room after the Algeria match tells the Mirror he was "looking for the loo".