Liberal Democrat MP 'would not support VAT rise'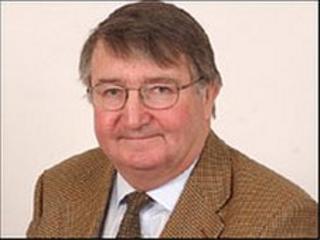 The leader of the Welsh Liberal Democrats in Westminster has said he would not support an increase in VAT in Tuesday's Budget.
Roger Williams, MP for Brecon and Radnorshire, said it was a "very regressive tax that falls most heavily on the poorest in society".
There are suggestions a VAT rise could be one of the measures announced by the Chancellor George Osborne.
The Conservative-Lib Dem coalition government wants to cut the UK deficit.
Mr Williams said there was a concensus that the deficit had to be tackled otherwise it would "increase and increase and that would lead to increase in interest charges that would decimate our public services".
He added: "Something had to be done - the question is will it be done in a way to protect the most vulnerable people in our society and give a boost to the private sector so that they can take up the slack of people who find themselves unemployed" .
Speaking on the BBC's Politics Show, Mr Williams rejected the idea that the cuts were ideologically driven.
"I don't think this is ideological actually. This is dealing with the practicalities of a terrible situation that was left by a Labour government," he said.
"We have been left with a very large deficit and if we don't tackle that then the first thing that's going to suffer is public services and the second thing that's going is the poorest and most vulnerable in our society."
The Labour MP for Llanelli, Nia Griffith, said she was also concerned about a possible rise in VAT.
She said such a move would be a "regressive idea which would hit the poorest".
Of the UK government's cuts, she said: "What's very worrying is that there seems to be a ideological determination to cut far too fast and far too quickly.
"The result of that could be a spiralling downwards, a vicious circle that could lead to the double dip recession which could be so very dangerous".
Ms Griffith warned against public sector job losses.
"If we cut public sector workers - they will not spend money in the economy," she said.
"Don't forget that a huge number of private firms depend on public sector procurement so they in turn will be spiralling downwards and we will find that nobody will be spending any money".
Chancellor George Osborne has said the coalition had inherited "a truly awful financial situation" from the previous Labour government and he would set out a four-year plan to deal with it in the Budget.
Tough action was "unavoidable" but he aimed to provide "prosperity for all", he added.