England World Cup fan in court over dressing room entry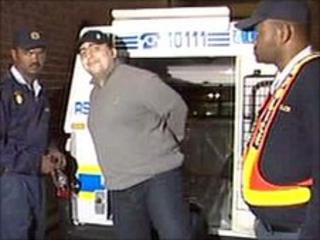 An England fan has appeared in court charged with two offences after going into the team's dressing room after the shock 0-0 World Cup draw with Algeria.
Pavlos Joseph, 32, from south-east London, claims he chanced upon the team in Cape Town's Green Point stadium while looking for a toilet.
There, he told David Beckham the team's performance had been "a disgrace", the Sunday Mirror reported.
South African police have since revised security procedures at all stadiums.
On Sunday, Mr Joseph appeared at Cape Town Magistrates' Court where he was charged with offences relating to stadium security before being released on 500 rand (£50) bail.
He is due to reappear in court on Monday and has been banned from attending matches while he awaits trial, as well as having his passport taken away.
Police had earlier arrested him at the Bay Hotel in Camps Bay, Cape Town, on suspicion of trespassing.
He had been identified using stadium CCTV footage, a police statement said.
"The charge relates to the man's appearance in the English team's change room after the World Cup match between England and Algeria on Friday night," it added.
Mortgage advisor Mr Joseph, who has no previous convictions, said he had been waiting outside the stadium for his two cousins and their father after the game.
After half an hour he decided to find a toilet, and said he was pointed in the direction of the players' tunnel by a steward.
While wandering about the tunnel, he said, he suddenly found himself in the England dressing room.
David Beckham, who is injured but with the squad as part of the backroom staff, was standing in front of him, he said.
"I wanted to make the most of this opportunity to tell him how frustrated us, his fans, are," Mr Joseph told the newspaper.
"I said to him 'David, we've spent a lot of money coming out here. That was a disgrace and what are you going to do about it?'
"He looked at me in surprise and stunned. He didn't know what to say.
'No guards'
"As he was about to say 'Who are you?' one of the Fifa officials came towards me and asked me that question. All the players were looking at each other and looking at myself.
"I said 'My name's Pavlos and I'm just looking for a toilet'."
Mr Joseph said the Fifa official took him to the nearest toilet, which was in the main building of the ground in the public area, and that the two later exchanged business cards.
"I said to him 'That atmosphere in the dressing room was shocking'. And he said to me 'You should have been in there at half-time,' Mr Joseph added.
"No security guards at any point... had questioned me, stopped me or even attempted to arrest me."
The BBC's Karen Allen, in Johannesburg, said: "It appears he managed to breach three security points without official accreditation before he was finally intercepted."
Provincial police spokesman Col Billy Jones has said police are investigating why he was not handed over to officers.
Mr Joseph's cousin, Leo Andrews, believes he is being treated unfairly.
"We're upset because I can't believe the system here, he didn't do nothing wrong," he said.
David Beckham had earlier said the fan he spoke to "didn't comment on the performance, he walked in, said hello".
The former England captain said: "The actual fan literally just walked in very casually and just said something to me and then walked out - there was no scuffle, there was no aggression at all."