Sudan NBA basketball giant Manute Bol dies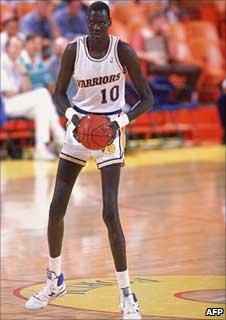 Basketballer Manute Bol, the 7ft 7in (2.3m) sporting legend from southern Sudan, has died at the age of 47.
He died at a hospital in the US state of Virginia where he had been treated for kidney problems.
After playing for 10 seasons for the America's prestigious NBA league, he worked for an aid group promoting reconciliation in Sudan.
"Sudan and the world have lost a hero and an example for all of us," Sudan Sunrise's Tom Prichard said.
Born into the Dinka community in southern Sudan, Manute Bol spent his boyhood rearing cattle and only started playing basketball in his teens.
When he was talent-spotted and went to the US, he could not speak any English.
He was one of the two tallest players ever to compete in the NBA, but after he retired he was reported to suffer from terrible rheumatism.
He gave a great deal of the fortune accrued during his basketball career in the 1980s and early 1990s to the southern rebels fighting the government in Khartoum.
In 2005, the two sides signed a peace deal that ended the 21-year civil war.
Before he died he was working to build schools in the south, one of the least-developed areas of the world.
He also campaigned to bring peace to the separate Sudanese conflict in Darfur, which erupted in 2003.
The first NBA team Bol played for - the Washington Bullets, now called the Washington Wizards - said in a statement: "Despite his accomplishments on the court, his lasting legacy will be the tireless work and causes he promoted in his native Sudan and the cities in which he played."
Related Internet Links
The BBC is not responsible for the content of external sites.