Spending cuts 'are threatening construction jobs'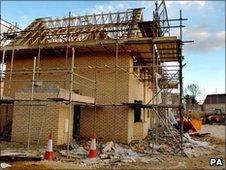 Government spending cuts could lead to thousands of construction job losses and longer housing waiting lists, a campaign group has warned.
The National Housing Federation said it believed the housing budget could be cut by up to 32% over four years.
This could lead to 200,000 construction jobs being lost or not created, and 350,000 people being added to housing waiting lists in England, it said.
The government is set to announce cuts in the Budget on Tuesday.
It has already announced the cancellation of 12 projects worth £2bn. These included programmes for the young unemployed and projects, including government funding for a visitor centre at Stonehenge.
The federation, which represents England's housing associations, said that if the housing budget was cut by a third, 142,000 planned affordable homes would not be built in the period up to 2020, and housing waiting lists would grow by 354,000.
Waiting lists for affordable housing are at a record level of 4.5 million people, and more than 2.6 million people are living in overcrowded conditions, the federation said.
However, it said just 123,000 homes were built in 2009-10, the lowest number since 1923, excluding the war years.
The federation also said it believed that, under the cuts, £44bn could be lost to the economy over a decade.
Federation chief executive David Orr said: "It is clear to everyone that the amount of public money available to fund various activities in the future is going to be tight. However, it is critical that the nation keeps building affordable housing.
"Drastically cutting the housing budget could also imperil the fragile recovery, as our modelling shows that cuts to the housing budget of one third would automatically take £44bn out of the economy over the next 10 years."
Housing Minister Grant Shapps said the government was "determined to build the new homes this country needs" despite "the very difficult economic situation we are in".
"This is why we acted quickly to protect £170m of funding to build up to 4,000 more social homes and protect 3,500 jobs. We also want to free up councils to build the homes they need to meet local need and will champion new local housing trusts to build more homes in local communities, especially in towns and villages."
Related Internet Links
The BBC is not responsible for the content of external sites.