Polling stations 'fail disabled' through lack of access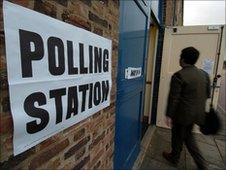 Online voting should be introduced to assist disabled voters after access to polling stations failed to improve for this year's election, a charity said.
A Scope survey suggested more than two thirds of the general election polling stations failed basic access tests.
That was no better than in 2001 or 2005, despite new guidance and duties for local authorities.
Scope's Ruth Scott said the "archaic" voting system had been "failing disabled voters for some time".
More than a third of disabled people - 35% - interviewed as part of Scope's Polls Apart report said they would prefer to vote online.
The report said some wheelchair users were forced to vote in the street and some polling station staff were unable to show those with eyesight problems how to use special equipment to help them vote.
Ms Scott said the country's voting system "isn't working for other voters either," demonstrated by "scores of people queuing outside polling stations" at the recent general election.
"Over the last decade there has been next to no improvement in the overall accessibility of polling stations or postal voting," she said.
"There is a pressing need for clearer accountability over how elections are delivered, to help improve the accessibility of current voting methods, as well as expanding these to include alternative methods.
"Unless this happens disabled people will continue to struggle to exercise their right to vote.
"In a digital age where people can vote by text for the X-Factor and shop and bank online, our voting system really needs to catch up."
Related Internet Links
The BBC is not responsible for the content of external sites.