Papers speculate as Budget looms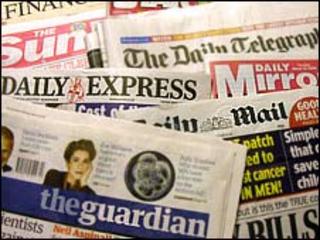 Many newspapers put the Budget on their front pages, the day before the government reveals its plans.
The Daily Telegraph has learned that public sector workers are facing a steep rise in their pension contributions to help cut the deficit.
They will be expected to pay hundreds or even thousands of pounds more each year into their pensions.
The Independent asks whether the chancellor risks creating unemployment on a scale not seen since the 1970s.
The Times says business leaders are demanding new union laws to cope with the surge in industrial action they expect after the cuts are announced.
The Financial Times says forecasts will show the austerity measures will create a brighter climate for the economy by the end of parliament.
Christine Bleakley's decision to leave the BBC is the Daily Mirror's lead.
It says she agreed a deal with ITV worth £4m, hours after the BBC withdrew a £1m contract offer.
'Keep calm'
The Daily Express covers a £46m benefit issue involving British expats.
It says taxpayers' money is being given to Britons living abroad who claim they are too sick to work.
But many of the 10,000 expats claiming Incapacity Benefit have been receiving the payments for more than five years without their cases being reviewed.
The Times describes BP boss Tony Hayward's decision to take part in a yacht race as "an almost suicidal decision".
The Sun's front page is a play on a wartime propoganda poster as it urges the England national team to "Keep calm and carry on".
"Don't panic," the paper says, England could still win "this crazy World Cup".
The Express reports that the players are angry that Fabio Capello has virtually confined them to their rooms since arriving in South Africa.
They believe his austere regime has made it impossible to relax between games and they are also said to want to see their wives and girlfriends.
The BBC's See Also rounds up more Budget opinion and analysis from around the web.