Russia cuts Belarus gas supplies over debt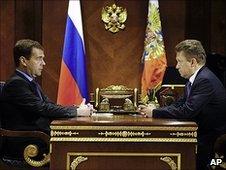 Russia's state-controlled gas monopoly Gazprom has started to cut supplies to neighbour Belarus over its debt after Russian President Dmitry Medvedev ordered the reduction.
Last week, Mr Medvedev warned Belarus that unless it paid off its gas debts within five days, it would face cuts.
Gazprom says Belarus owes about $200m (£134m; 160m euros) after failing to pay increased prices.
About a fifth of Europe's supplies of Russian gas is pumped through Belarus.
It was not clear whether the dispute would affect European customers or if Gazprom would be able to send more gas via Ukraine, said the BBC's Richard Galpin in Moscow.
Russia has started cutting gas supplies by 15% on Monday, gradually due to increase to more than 80% if there is no breakthrough in continuing negotiations between the two countries.
Gas supplies will be reduced "day-by-day, proportionally to the debt's volume", Gazprom's chief executive Alexei Miller said, according to Ria Novosti news agency.
Mr Miller said Belarus admitted having the debt.
"But it proposes to pay it with machinery, equipment and various other products," Mr Miller told Mr Medvedev on Russian television.
Mr Medvedev said foreign payments could only be accepted in foreign currencies: "Gazprom cannot accept debt repayments in anything, be it pies, butter, cheese or other means of payment."
Belarus, which has recently complained of financial difficulties, has challenged the Russian claim and refused to pay.
Belarus insists Russia provide it with cheap oil and gas as part of a customs union deal between the two countries which is due to come into force next month.
Last week, Belarus President Alexander Lukashenko said his country owed nothing to Gazprom, but would settle any disagreement.
Mr Lukashenko says prices should have remained the same as part of the forthcoming customs union deal.
Belarus wants to settle any outstanding debt at last year's lower prices.
Russia increased the price of gas supplied to Belarus from $150 per 1,000 cubic metres of gas last year, to $169.20 in the first quarter of 2010 and $184.80 in the second.
But Belarus has continued to pay at $150.
Gazprom said at this rate it could owe $500m or $600m by the end of the year.
Belarus is an important part of the pipeline network which transports Russian gas supplies to Europe.
It remains heavily dependent on Russia to meet its own energy needs, and a considerable proportion of Russian oil and gas exports to Europe pass through it.
Russia and Belarus are supposed to be close allies, but have had several rows in recent years, particularly over energy supplies, correspondents say.
Russia has not been afraid to cut supplies to countries it accuses of falling behind in their payments.
In January 2006 and again in 2009, Russia cut gas supplies to Ukraine, causing knock-on effects all over Europe.
In January this year, a row nearly resulted in Russian oil deliveries to Belarus being halted.
Russia's critics have accused it of using its energy supplies as a political weapon.
Related Internet Links
The BBC is not responsible for the content of external sites.