Vintage computers inspire next generation of scientists
By Chris Vallance
BBC News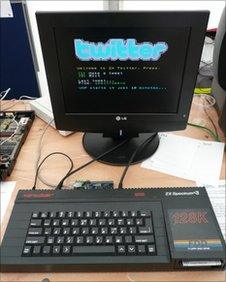 More than 2000 retro-computing fans descended on Bletchley Park last weekend as The National Museum of Computing hosted Britain's first Vintage Computer Festival.
Bletchley Park is best remembered as the main centre of Britain's World War II code-breaking efforts, in which pioneering electronic, digital computers played a vital role.
Festival-goers were able to head from rooms containing rebuilt code-breaking computers to stands showcasing the work of enthusiasts keeping alive machines of the 1970s and 80s.
For many of those who attended, the exhibition of classic machines such as the BBC Micro or ZX81 brought back memories of childhood encounters with technology.
After playing a game on a Commodore 64 one attendee said: "My dad brought one home and ever since then, there hasn't been a day when I haven't played with a computer".
Retro games ran on many of the old machines winning some new converts.
One young girl said she liked the fact the games were shorter: "If you were getting ready for bed and you wanted a quick game, you could just choose space invaders," she said.
But enthusiasm for retro computing isn't just about saving old machines from being thrown away, exhibitors had modified, tinkered with and written new programmes for the machines on display.
A tweeting ZX Spectrum was popular with many.
Others revelled in the challenge of pushing old technology to its limits.
Andrew Spencer of the Retro Computer Museum was demonstrating a Commodore VIC-20 which produced sounds and graphics illustrating what could be done with even a "quite limited" machine.
Among the new uses for old devices, the resurgence of interest in retro-sounding computer generated music was also celebrated with presentations by popular "chiptune" musician Matthew C Applegate, who performs as Pixelh8.
One visitor to the festival Max Hall, a record producer, said that he still used a Commodore 64 in recordings: "A lot of the sounds are really useable so it's fantastic, I think it's reminiscing back to my childhood".
The band Orchestral Manoeuvres in the Dark played a sold out gig at the festival.
Talking of the renewed interest in 8-bit electronic sounds Andy McCluskey from the band said: "Is it because there's a generation of middle-aged geeks who are nostalgic about their teenage years, like us? Whatever it is, we approve".
Christine Finn author of "Artifacts: an archaeologist's year in Silicon Valley" who spoke at the festival, felt preserving this old technology helped create a sense of personal history: "I like to think of the objects that we use as tools as being pieces of autobiography," she said.
But the festival wasn't just an exercise in revisiting early memories of technology.
Andy Clark, a director and trustee of the National Museum of Computing, said the vintage machines helped to generate interest in technology: "People come along, look at them, get engaged and interested, and that's our next generation of computer scientists".
Related Internet Links
The BBC is not responsible for the content of external sites.