Nebraska city votes to bar hiring illegal immigrants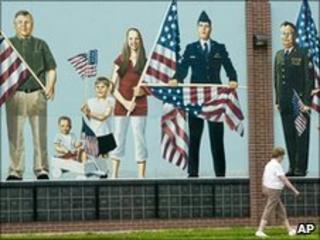 Voters in a city in the US state of Nebraska have backed a ban on local businesses and landlords hiring or renting to illegal immigrants.
About 57% of voters supported the move, which is likely to be the subject of a court challenge.
The vote in Fremont is the result of a two-year fight by residents concerned by an influx of Hispanic workers.
It follows an immigration law passed recently in Arizona which critics have said could lead to racial profiling.
Other states and cities want similar laws, saying the federal government has failed to tackle the problem.
US President Barack Obama has made immigration reform a priority, but has warned the task is being made harder by the actions of Arizona, Fremont and others.
Lawsuit threat
The campaign for a law began two years ago amid concerns that the Hispanic population in the 25,000-strong city had gone from 165 in the 1990s to an estimated 2,000 - drawn mainly to work at a nearby meat-packing plant.
A proposed law - similar to the one now passed - was narrowly defeated when put forward by a city council member in 2008.
Residents disappointed by that result collected more than 3,000 signatures for another ballot; they finally got approval in the Nebraska Supreme Court.
Supporters of the vote say it is necessary to protect jobs, healthcare and education for local people, while critics say it will divide the city and fuel discrimination.
The Nebraska chapter of the American Civil Liberties Union had threatened to sue the city if the law were passed.
The Arizona immigration law, which comes into effect next month, requires police, in the context of enforcing other laws, to question people about their immigration status if the officers have reasonable suspicion the person is in the US illegally.