Unions condemn Culture and Sport Glasgow name change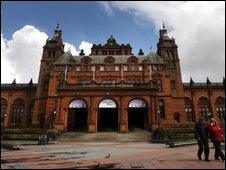 The body which runs Glasgow's museums, libraries and sports facilities has spent £54,000 on rebranding.
Culture and Sport Glasgow will now be known as Glasgow Life and has spent money on a new logo for uniforms, new signage and marketing material.
Unions have criticised the cost of the change.
Members of Unison, Unite and the GMB are currently engaged in industrial action over pay and conditions.
A spokesman for Unison said staff would prefer to see the money spent on avoiding wage cuts rather than "new T-Shirts."
Striking workers spent the weekend picketing outside a major swimming event at Tollcross leisure centre.
A spokesman for Culture and Sport Glasgow said the UK Masters Swimming went ahead "unaffected".
Previous walkouts have resulted in the closure of some of the city's most popular museums and tourist attractions, including Kelvingrove Art Gallery and Museum, the Gallery of Modern Art and the Burrell Collection.
Culture and Sport Glasgow, which was launched three years ago, said research suggested the name meant little to the public who used the facilities.
A new website has also been created as part of the rebranding move.
Lynne McPhee, marketing and communication manager at Glasgow Life, said: "More and more people are looking to use our services and facilities, as they look closer to home for sport, culture, education and leisure opportunities which are both high quality and value for money.
"The new brand will give the people of Glasgow the information they need to access more of our services."
Related Internet Links
The BBC is not responsible for the content of external sites.