New drive to tackle railway crossing misuse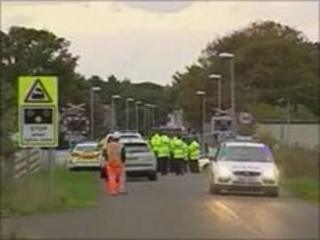 Drivers accused of flouting rules at railway level crossings will be shown footage of their motoring captured by British Transport Police officers.
The force in Scotland has taken delivery of two vans fitted with recording equipment.
One will be based in Inverness and used at crossings in the Highlands and the other will cover central Scotland.
Footage of inappropriate driving can be downloaded on to a computer and shown to the motorist involved.
The vehicles that will be used have been supplied by Network Rail.
In Scotland there are 37 crossings with full barriers, 32 with partial barriers and 23 open, or unmanned, crossings.
The new initiative by British Transport Police followed a pilot scheme run in Caithness where three people died at a crossing last year.
Inverness-based Insp Bob Cameron said the new vehicle for the Highlands would give his officers greater flexibility in targeting offending.
Only four crossings in the region have static cameras to record misuse.
Insp Cameron said: "For us it allows my officers to go to any crossing in the Highlands."
The vehicles' launch comes on International Level Crossing Awareness Day.
Concerns over safety at sites where there are no barriers were raised by politicians last year.
Losing power
Calls for reviews were made by the SNP and Liberal Democrats following the deaths of three people whose car was in a collision with a train at a crossing in Caithness.
Angus MacKay and his wife Margaret and Mr MacKay's brother Donald were killed in last September's accident at Halkirk.
Last January, an investigation pinpointed a problem with another crossing that had been at the centre of a safety row.
The Office of Rail Regulation (ORR) said Network Rail found a battery for train detection gear at Bunchrew, near Inverness, was losing power.
Complaints from people who regularly use the crossing, which has warning lights but no barriers, instigated the probe.
Network Rail had previously said the crossing was safe.