Budget: How will Northern Ireland be affected?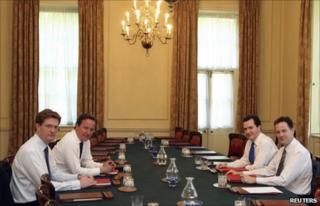 Tough spending cuts and tax rises are expected to be announced by Chancellor George Osborne in Tuesday's Budget.
Mr Osborne warned on Sunday that Britain was "on the road to ruin" unless the deficit was cut.
Figures from Northern Ireland have been giving their assessment of what the budget could mean for local people.
Seamus McAleavey, NI Council for Voluntary Action
"Many organisations in our sector are focussed on tackling disadvantage and that section of society could get hurt on both sides of the budget. Increased taxes, particularly VAT, will hurt those on low incomes most.
"The budget will also announce public spending cuts of a very large scale. Northern Ireland's budget could be cut by 20% in real terms over three years. How Northern Ireland manages the 'hand we are dealt' will be crucial if we are to minimise the pain and damage the cuts will lead to.
"We will not influence the Chancellor but we can control our own priorities and clearly a collegiate response by the Northern Ireland Executive is critical.
"If handled badly we will make a bad situation much worse. I do fear that many valuable public services delivered by voluntary organisations are decimated by cuts that fall disproportionately on the vulnerable."
Brian Campfield, NI Public Service Alliance (Nipsa)
"Under the cloak of fiscal responsibility they are prepared to decimate whole communities, attack the welfare system, jeopardise economic recovery and condemn millions of young people to a life of unemployment.
"Those who will suffer from these hawkish fiscal measures will not be the millionaire class that is well-represented in the Cabinet but the vast bulk of ordinary citizens who work for a living and who struggle to provide a decent life for their families.
"Those communities which rely on public services and the important employment public services provide will suffer the most while those who can weather the crisis on account of their wealth will barely notice any change in their existence.
"These measures to make the people pay for the crisis must be resisted. The message must go to the new government that the trade unions and those who believe in a fairer and more just society will resist any attempts to cut public services."
Glyn Roberts, NI Independent Retail Trade Association
"We fear the chancellor may hike up VAT, which is a regressive tax - I don't think it will in any way stimulate consumer demand or for that matter encourage people to spend.
"This would put prices up and it would also carry a tremendous hassle factor for small traders who will have to change their pricing.
"It would also take staff away from the core activities of running the shop.
"Also, funding of capital investment projects needs to continue - they are good for creating jobs and good for our economy."
Richard Ramsey, Ulster Bank chief economist
"All sections of the community, from those in work to those on welfare benefits, will find out later this afternoon how worse off they will be.
"One of the biggest losers is likely to be public sector workers and NI has the largest share of this group relative to any other UK region. Public sector workers are expected to receive a pay and pensions double whammy.
"Today's budget measures are likely to illicit a wry smile from the RoI exchequer and shopkeepers south of the border. Cross-border shopping, outside of general groceries which are VAT exempt, will become less attractive for RoI shoppers.
"Looking ahead, NI's politicians will have to demonstrate that they possess the public expenditure 'aXe-factor' and the ability to deliver unpopular policies.
"Traditionally, this has been a vital ingredient in government's fiscal policy around the world. However, it has been something the electoral judges have, until now, not looked for in their local politicians."
David McNarry, Ulster Unionist finance spokesman
"The new government in Westminster is committed to cutting by half the national debt over three to four years. This will need spending reductions in the region of £60bn. The Executive's share of this reduction could reach £1bn or more by 2013-14.
"Our national government is ready but the question is, 'Is the Executive?' What is the Executive's plan? All the evidence to date - the failure of Local Government Reform, the Education and Skills Authority and the Maze - tell us that it has none.
"The Executive is working from the outdated Programme for Government. Week after week it makes costly errors. It has a mechanism to manage fiscal change from the days of high-spending Labour government. We need corporate government in Northern Ireland.
"To ensure that Northern Ireland emerges from this difficult period in a stronger position the Ulster Unionist Party is calling on the Executive to make three significant changes: revise the Programme for Government; set out a framework for managing budget reductions and increasing productivity; and increase transparency and accountability."
Mitchel McLaughlin, Sinn Fein economy spokesman
"While we will have to take account of the implications of the British government's budget on our spending, I don't believe that the British chancellor takes consideration of the impact his decisions will have on the ability of the Executive to invest in economic recovery here.
"While the Chancellor will take measures to protect areas such as health and education in Britain, this protection will be of no assistance here.
"This is just another example of the fact that without the ability to raise finance through measures such as additional tax-varying or borrowing powers, we have no choice but to manage the cuts to our steadily reducing budget, imposed by London.
"I have been encouraged by recent comments by economic analysts in support of the transfer of increased fiscal powers to the Executive. I would now call on those political parties who oppose such an approach for ideological reasons to examine in pragmatic and practical terms, the benefits that would flow from such powers."
Esmond Birnie, PricewaterhouseCooper NI chief economist
"Lower growth, higher borrowing and a £156bn deficit means even greater pressure to cut public spending in England and in the devolved regions.
"With swingeing public sector spending cuts on his Budget radar, the Chancellor must be careful with regions like Northern Ireland that are heavily reliant on public expenditure.
"I would hope Mr Osborne will soften the impact of spending cuts on Northern Ireland and the Executive, by offering tax breaks or incentives to encourage private sector growth and investment.
"Regardless of how the Chancellor treats the regions, this is going to be the toughest Budget in a generation."
Joe McDonald, Ulster Farmers Union spokesman
"The important thing for us when it comes to government spending is frontline services - we're concerned about the areas of the government which farmers directly interface with.
"The Department of Agriculture have an initiative they've rolled out over the past couple of years called DARD Direct, a one-stop shop where farmers can go in and talk about funding arrangements and get advice.
"I suspect that even on Tuesday evening we won't know how it will all shake out, as the Stormont Executive will have to make sense of it and allocate funding cuts accordingly to each department."
Conor Patterson, Newry Chamber of Commerce
"Any fiscal advantage that Newry and other locations in Northern Ireland along the border, we want to see retained. Anything that makes our fiscal position less advantageous doesn't help.
"That said we recognise in Newry that we can't base our retail offer on tax and currency differentials between Northern Ireland and the Republic.
"Our offer has to be attractive enough draw shoppers into Newry, not just from the South but from the North also. I think that already is the case.
"The shopping here is very good. Nevertheless, an increase in VAT will make life more difficult for retailers here, as it will for retailers everywhere in Northern Ireland and Britain."