Minister 'disappointed' over NI council plan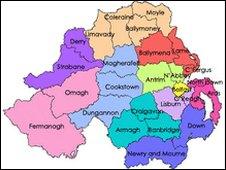 The NI minister of state, Hugo Swire, has said that he is "disappointed" that the reorganisation of NI councils will not go ahead in 2011.
Earlier in June, the executive failed to agree a plan to more than halve the number of NI's councils to 11.
The Minister of the Environment Edwin Poots had written to Mr Swire.
This was to confirm it had not been possible to get executive agreement to reorganisation of local government in 2011.
Mr Swire said he had written to the first and deputy first ministers confirming local elections in 2011 will be held to the existing 26 councils.
The Minister said: "Like many, I am disappointed that the reorganisation will not now go ahead in 2011, not least because Parliament agreed to postpone the 2009 elections to provide for this.
"Clearly it would be unacceptable for the elections to be further postponed beyond 2011 given that there is no sign of the situation being resolved in the immediate future.
"There is now no option but to hold these elections to the existing 26 councils notwithstanding the fact that their boundaries have not been reviewed since 1992."
Earlier this month, SDLP, Sinn Fein and Alliance ministers all voted for the 11 council model but the three DUP ministers voted against. The UUP ministers did not vote.
Michael McGimspey, Sir Reg Empey and Edwin Poots absented themselves from the vote due to their roles as councillors.
Earlier in the month, local government representatives gave a qualified yes to the environment minister's demand that they pay the cost of council reform.
The 26 councils agreed to meet the bill if it was based on principles of fairness, with the cost for reducing the number of councils to 11 estimated at £118m.
Mr Poots told the assembly last year that the £118m cost to fund the process of cutting councils would mean savings of £438m could be made over 25 years.