Scottish Traditional Boat Festival held in Portsoy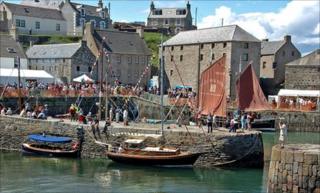 The Scottish Traditional Boat Festival is being held in Banffshire.
The event in the town of Portsoy takes place over Saturday and Sunday, featuring scores of boats as well as music and crafts.
Organisers expect the annual event to attract thousands of visitors on both days.
Roger Goodyear, chairman of the Scottish Traditional Boat Festival, said: "Since the festival was launched 17 years ago it has grown in stature."
He explained: "It has become much more than a celebration of the breadth and diversity of traditional sailing and fishing.
"It blends together age-old crafts, music and traditional values with maritime culture.
"We are confident that the line-up we have secured for this year will draw our biggest crowds yet."