Three Rwandan peacekeepers 'killed in Darfur'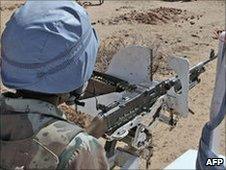 Three peacekeepers have been killed in Sudan's Darfur region, officials say.
The peacekeepers, from Rwanda, came under attack in West Darfur, an official with the joint UN-African Union force told Reuters news agency.
They were guarding a new base under construction in an area where there have been attacks in the past.
The UN estimates 300,000 people have been killed in Darfur since rebels took up arms in 2003.
"Brutally and without warning, about 20 men armed with AK47s [machine-guns] opened fire at our troops," peacekeeping force spokesman Kemal Saiki told the AFP news agency.
He said he did not know which of the numerous armed groups operating in Darfur was behind the attack.
The attack took place in Nertiti, which AFP says is near an area controlled by the SLA-Abdelwahid Nur faction, as well as the scene of recent ethnic clashes.
Twenty-seven troops from the peacekeeping force known as Unamid have now died since the UN took joint control in 2008.
After a period of relative calm, there has been a recent increase in the number of deaths in Darfur.
About 600 people died in fighting in Darfur last month - the highest monthly toll since 2008.
The renewed clashes come after the Justice and Equality Movement rebels pulled out of peace talks with the government.
Sudanese President Omar al-Bashir is wanted by the International Criminal Court (ICC) for alleged war crimes committed in Darfur - charges he strongly denies.
His government also denies charges it gave weapons to Arab militias accused of forcing black African civilians from their homes after the rebellion began.
Related Internet Links
The BBC is not responsible for the content of external sites.