North Korea TV viewers see World Cup loss
By John Sudworth
BBC News, Seoul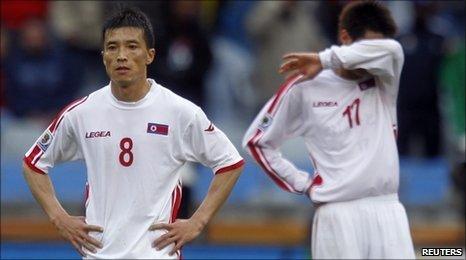 North Korean football fans - at least, those with both a TV set and a reliable electricity supply - were allowed to see their team's first World Cup game against Brazil.
But the broadcast gave new meaning to the term "action replay", making it onto the airwaves of the country's single, government-run channel more than 12 hours after the final whistle.
That, though, is far from unusual.
In fact, the latest match against Portugal is reported to be the first time a North Korean game played on foreign soil has been broadcast live back home.
It was a risky decision for two reasons.
Firstly, it was an open invitation for anyone who wanted to protest against North Korea's human rights record to have their messages beamed directly into Pyongyang living rooms.
And secondly, there was always the chance that the country's sporting heroes would get roundly and humiliatingly thrashed.
"I think because they played so well against Brazil in the last game, no-one in North Korea would have imagined that they'd lose so big this time," Kim Young-il tells me while watching the game in his Seoul apartment.
Mr Kim, 32, is a North Korean defector, who fled to the South in 1996 and he has mixed emotions about the 7-0 drubbing.
"On the one hand I feel proud when the team does well," he says.
"But on the other, I don't want them to do too well. Unlike in other countries it wouldn't be the star players who reap the rewards of the success, but [North Korean leader] Kim Jong-il himself."
It's hard to know how much credence to give to the claims from the North Korean Football Association that the country's leader has been giving the team personal guidance and help with tactics.
But true or not, North Korea wouldn't be alone, of course, in wanting to exploit sporting success for political ends.
Mr Kim shakes his head when he thinks of the fate that might await his former countrymen.
"The result will be blamed on their weak minds," he tells me.
"I'm sure the players will have to go though extreme re-education and self-criticism."
In the end, North Korea can be pleased about one thing.
There were no protests, not a single anti-North Korean placard in sight.
It's interesting to ponder why this might be.
Imagine the scenes that would have greeted the Burmese team had it qualified for this competition, or remember the scenes that greeted the Olympic torch as it made its way around the world en route to Beijing.
North Korea is a country with a human rights record that would give both Burma and China a run for their money.
It allows no opposition, no free media and no religious freedom, and it keeps thousands of political opponents, and their families, in large forced labour camps.
Apart from Amnesty International, which used North Korea's opening game to highlight its concerns, there has been barely a peep about it.
Perhaps those who claim that sporting events of this kind can break down barriers and cultural divides have a point.
At the very least, for the duration of 90 minutes, information-starved North Koreans got a rare reality check about the limits of their nation's powers on the international stage.
There is certainly no sign of any opposition to North Korea's participation here in the South.
At bars in central Seoul you can find groups of South Koreans cheering the North as loudly as their own team.
"Our enemy is the leader of North Korea, not the people," one fan, Baek Kwang-gu, tells me.
"I always support our brothers when they're playing other countries."
But the opportunity for praise and protest alike are coming to an end.
North Korea's defeat at the hands of Portugal now means certain elimination.
Perhaps it will also spell the end for its brief experiment in live football broadcasting and its people will slip back once more behind a sporting iron curtain.
Related Internet Links
The BBC is not responsible for the content of external sites.