Profile: Nikki Haley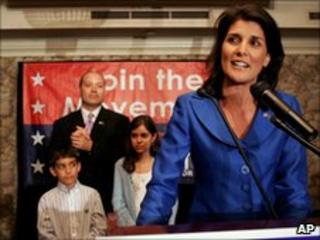 After winning Tuesday's Republican primary run-off in the South Carolina governor's race, Nikki Haley stands a good chance of becoming the first minority and woman governor of a deeply conservative state with a long history of racial strife.
And she has reached that position in spite of innuendo about her ethnic and religious background and unsubstantiated accusations of adultery - or perhaps because of them.
Mrs Haley, a state representative, is a staunch conservative whose willingness to buck the state's Republican establishment has won her the approval of former Alaska Governor Sarah Palin, and with it, support from the populist, anti-government Tea Party movement.
"She is telegenic and a fresh face, and she's saying all the right things in terms of transparency and changing the 'good ol' boy' system," said Chip Felkel, a veteran Republican political strategist in Greenville, South Carolina, who says he is not involved in the race.
'Image of diversity'
Indeed, some observers of South Carolina politics say the slurs and accusations allowed her to position herself as a target of the political establishment, the very group her supporters would oust from power.
The daughter of Indian immigrants raised in a Sikh household, Mrs Haley, 38, converted to Christianity and attends a Methodist church. She married her husband in a Christian wedding and a second traditional Sikh wedding and took her husband's name.
"She gives [the] image of diversity within the party leadership, without there being a diversity to the party platform and ideology," said University of South Carolina political scientist Todd Shaw.
An accountant and businesswoman, Mrs Haley was first elected to the state legislature in 2004 and boasts of fighting government waste and pushing for more accountability and efficiency in government.
'Unknown to victim'
Heading into the 8 June Republican primary election, Mrs Haley faced a crowded field of politicians vying to replace Governor Mark Sanford, who was disgraced last year by revelations he had carried on an affair while telling his staff he was off hiking.
In the days before the vote, two men publicly stated they had had affairs with Mrs Haley.
She vehemently denied the accusations, and voters had reason to question her accusers' motives. One man was a political blogger with a reputation for provocation, and the other had been working for Andre Bauer, an opponent in the race. Neither provided convincing evidence of the alleged dalliances.
Then, Republican State Senator Jake Knotts unleashed an ethnic slur at a political forum, calling her a "raghead".
While her opponents were forced to react to that comment and the accusations of infidelity, Mrs Haley hammered her message of transparency in government, Mr Felkel said.
"She went from being an unknown to a victim to a martyr," he added.
'Frontrunner'
She took 49% of the vote in the primary election, and in Tuesday's run-off she flattened Representative Gresham Barrett, who came second in the initial vote with 22%.
Pundits believe Mrs Haley will start the general election campaign as the front runner against Democrat Vincent Sheheen.
But some observers say Mrs Haley's adversarial style will make it difficult for her to win co-operation on her policy agenda from the lawmakers she has alienated.
"Legislative leaders simply do not like her," South Carolina's largest newspaper, The State, wrote on Sunday.