Marines in musical homage to Wootton Bassett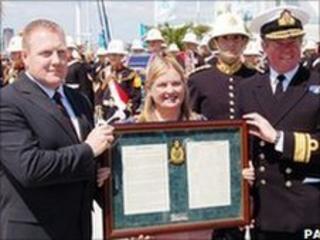 A musical tribute to the town of Wootton Bassett has been performed in public for the first time.
The piece, by Maj Pete Curtis of the Royal Marines Band Service, is intended as a thank you to the town which is synonymous with repatriation ceremonies for fallen service personnel.
The five-minute Wootton Bassett march was played by a Marine band at a ceremony on Gunwharf Quays, Portsmouth.
The mayoress of the Wiltshire town was there to hear the premiere.
Maj Curtis said: "It is poignant that this event is being held at the same time as the 300th casualty in Afghanistan."
'Generous gift'
The score was presented to the mayoress, Mary Champion, by Rear Adm Tom Cunningham.
Rear Adm Cunningham said: "The people of this quiet and peaceful Wiltshire town turn out in their hundreds in all weathers to pay their respects as repatriation convoys make their way with our service dead from RAF Lyneham to the city of Oxford.
"For all members of HM Armed Forces and their families, this is a very special and generous gift, given freely when most needed and most appreciated."
The work - which includes the sound of church bells and an approximation of the rumble of a C17 Globemaster aircraft flying overhead - will be first performed to the public at the South Coast Proms at Whale Island, Portsmouth on 25 and 26 June.