How and when to cut deficits?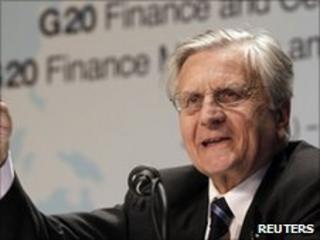 When the Chancellor of the Exchequer George Osborne presents an emergency budget to Parliament he will join a growing list of European finance ministers who are trying to bring down government borrowing.
The recession has done extensive damage to government finances throughout the developed world.
The cost of financial rescues and government spending to stimulate economic recovery has helped push them further into the red.
But, according to the International Monetary Fund (IMF), the biggest factor has been the decline in economic activity which hit tax revenues hard. Nearly half the increase in government debt that the IMF predicts for the developed country members of the G20 up to 2015 will be due to lost tax revenue.
Austerity packages
In the UK, the deficit this year is projected by the IMF to be a larger share of national income than in any other developed country apart from Ireland.
The UK comes out better on a comparison of accumulated debt, but the annual deficit means that figure too is rising rapidly.
There is extensive agreement among those governments that the debt burden needs to be stabilised.
The urgency is greatest for those in the eurozone that have faced most pressure in the financial markets, notably Greece, Spain and Portugal. All three have announced austerity packages intended partly to convince the markets that their borrowing needs will come down and they will be able to repay their debts.
Others are also making plans to reduce their borrowing needs, including Europe's biggest economy, Germany.
Past mistakes
There is, however, less international consensus on the timing of action to cut government deficits. President Obama wrote to other leaders of the G20 major economies last week expressing concern about the risks of renewed recession and hardship if cuts are made too soon.
We must learn from the mistakes of the past, he wrote.
He is probably referring to the US recession of 1937-38, which followed a period of recovery from the Great Depression. One of his top economic advisers, Christina Romer, partly blames new taxes and lower government spending for that downturn.
President Obama's letter didn't name any particular government. Nor did it explicitly say anyone is taking the axe to public spending too soon. He also acknowledged that government finances will need to be improved.
But he is clearly uneasy about the timing of such action and he will be able to share that concern with the other G20 leaders at a summit in Canada at the weekend.
The debate reflects a genuine dilemma. Government debts in the developed economies need to be stabilised. But the recovery is not very secure and could easily be set back.