Papers warn about Budget cuts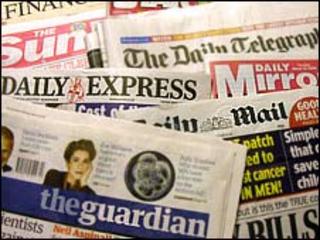 The chancellor's first Budget is previewed in the papers, with the Sun warning that "things are about to get nasty".
The Daily Mail says that the chancellor needs to cut waste - but says he also needs to foster growth.
"Increases in capital gains tax, VAT and the decision to stick with Labour's lamentable top rate of tax of 50% will do just the opposite," it says.
According to the Guardian, nearly three-quarters of voters believe the government's priority should be to cut spending, rather than increase taxes.
But, says the paper, two-thirds think cuts will hurt the poor the most - with only 29% agreeing with the government's claim that the pain will be shared.
For the Daily Mirror, "slasher" George Osborne is about to deliver the most brutal budget since 1981, which will slap a £425 VAT rise on every family.
Afghan toll
As the British death toll from the conflict in Afghanistan reaches 300, several papers provide a grim photo gallery of the dead.
The Times says that for every British death there, three are maimed.
The Independent agrees that "the dead are not the only casualties of the conflict".
The Daily Mail reports on a study which shows that the death rate for British troops in Afghanistan is almost triple that for US servicemen in the country.
In an editorial, the Daily Express argues that "Britain must reassess its mission" there.
Morbid metro
The Telegraph reports the opening of a new metro station which has opened in Moscow, named after the gloomy writer Fyodor Dostoevsky.
The paper says it is decorated with "brooding mosaics", such as an axe murderer about to kill a pawnbroker and her sister in a recreation of a scene in the novel Crime and Punishment.
The playwright Sir Tom Stoppard tells the Daily Telegraph that children's love of reading is being "swept away" by technology in the home.
Sir Tom argues that, in an age of technology, "the moving image" takes precedence over "the printed page" for many youngsters.
England's woes
"A big mistake" is the phrase picked up by many papers to encapsulate the reaction by the England manager Fabio Capello to comments made by his former captain John Terry.
Terry had implied that all was not well within the England camp at the World Cup.
But, according to the Daily Mail, Terry has had to apologise to his manager after failing to be backed by his fellow players.
The paper describes Terry as "the outcast", "slapped down by Capello and shunned by his team mates".
Under the headline "I will be obeyed", The Mirror says "Don Fabio" has rediscovered his "iron fist".