Policeman and former Mr Gay UK winner faces sex charges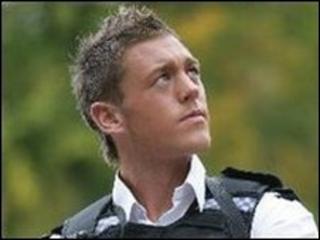 A police officer and former Mr Gay UK winner has appeared in court charged with a number of sex offences.
Pc Mark Carter appeared at Leeds Magistrates' Court charged with one rape, three sexual assaults and an attempted sexual assault.
The 27-year-old, who has been suspended from duty, was charged following an incident at the Etap hotel in Leeds on 19 December 2009.
He was given bail and will appear at Leeds Crown Court on 29 June.
During the brief hearing the court was told the charges involved four different alleged victims and are said to have taken place between 18 and 19 December.
Pc Carter is also charged with possessing the class C drug Stanazol, also on 19 December.
In relation to this charge he will appear at the magistrates' court again on 3 August.
The West Yorkshire Police officer was crowned Mr Gay UK in 2006 at the Flamingo Club in Blackpool.